John Cerveny
President – John Cerveny has been a part of AFS since he and his wife, Terri, bought their home in Lake Luzerne in 2015. John has served on the AFS board of directors since 2018 and became president of the Board in 2021. John and Terri are year-round residents of Lake Luzerne and are supporters and volunteers for several organizations in the region. John is the Director of Resource Development for the New York Battery and Energy Storage Technology Consortium, an industry association focused on growing opportunities for advanced batteries across the State. Cerveny previously held senior leadership positions at a number of cleantech companies where he led efforts that resulted in creation of hundreds of jobs, and raised funding of well over $100 million. Cerveny earned a BS in Engineering and an MBA at RPI in Troy. A native of Iowa, John fell in love with the Adirondacks while a student at RPI and is proud to call this beautiful region home.
Tanya Tobias-Tomis
Vice President – Tanya has two decades of non-profit experience, and is currently the Executive Director of The Lake George Arts Project. Tanya has a BFA in Art History from U Albany, and a MA in Arts Administration and Museum Education from Skidmore College. Tanya is a past Americans for the Arts Emerging Leader Scholarship Award Winner and has been an Americans for the Arts Emerging Leader Award Panelist, as well as an exhibition juror and guest speaker for many local and regional arts organizations. Tanya lives in Hadley with her husband, their four year old daughter, a feisty Akita mix, Odin, and the sweetest cat in the blueline, Meepers. Before she had a toddler, Tanya enjoyed doing yard work, woodworking and gardening. Tanya fell in love with The Adirondack Folk School while participating in an open forge night and when she has time again will be signing up for a blacksmithing class.
David Riihimaki
Treasurer –David Riihimaki has been a member of the Adirondack School Board of Directors since 2015 and a resident of Corinth since 2003. He has worked as a commercial banker for Glens Falls National Bank since 2013, helping business owners in the Capital region with their financial needs. On occasion, Dave's wife, Meghan, and their children, Anna and Lila, can be found at the Folk School enjoying a slice of pizza from the on-site wood-fired pizza oven that Dave operates. The rest of the time, they make him feel like the luckiest guy in the world. Dave got involved with the Adirondack Folk School because it provides hands-on engagement with great projects and wonderful instructors and helps him feel more connected to the Adirondack region.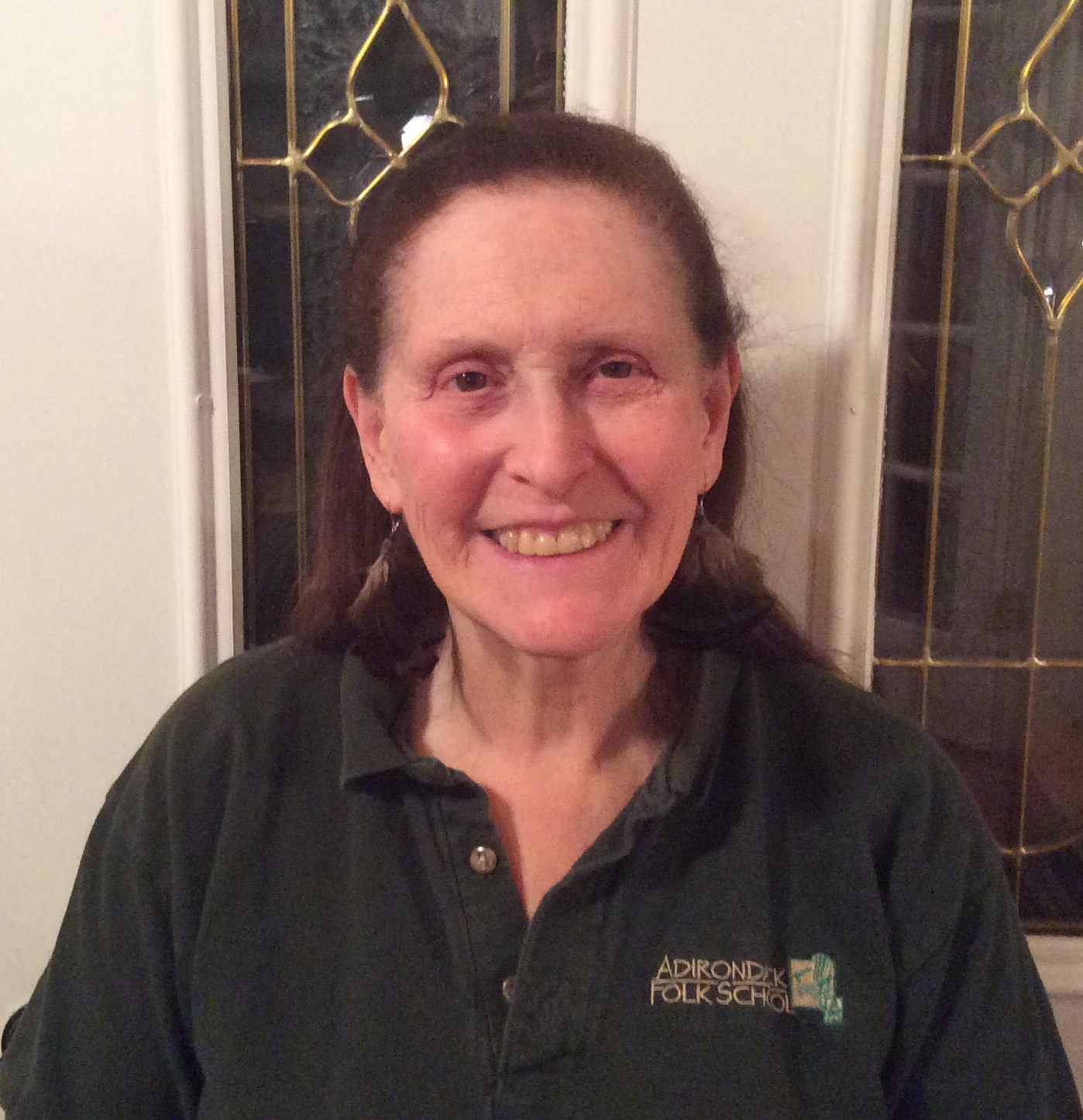 Patricia Goldberg
Secretary – Patricia worked as a mainframe computer programmer and owned her own consulting company for 25 years, working at many major companies in the New York and New Jersey area. She has been involved with the Adirondack Folk School since before it opened and has served as a board member, secretary, teacher and volunteer, but her favorite role is as a student. Patricia's taken over 50 classes so far and has no plans to stop. She says there's no place else where she can have so much fun learning a huge number of wonderful skills taught by amazing teachers. Patricia also hopes that her involvement in the Adirondack Folk School will be one way she can give back to the area she loves.

Kathleen Fagan
Board Member – Kathleen Fagan grew up in RI and graduated from Colgate University in 1978 with a BA in history. Her husband Chris (yes, this was back in the day and they married right after graduation) and she went overseas where he played professional basketball in Holland and France. They settled in Niskayuna in 1987 with their two daughters and Kathleen had a long career in sales and marketing in higher-education publishing. They bought a vacation home in Bolton Landing in 2014 and shortly thereafter Chris was diagnosed with ALS. He passed away in December of 2019 and Kathleen moved permanently to Bolton Landing in 2020. She took the Wee Lassie canoe course with AFS and understood immediately what a huge asset the school is to our local community and the wider region.
Stephen Fisk
Board Member –
Sheila Flanagan
Board Member – Sheila Flanagan is an owner and cheesemaker at Nettle Meadow Farm and Cheese Company located in Thurman and Lake Luzerne New York. Sheila is originally from Stamford, Connecticut and earned Bachelor's degree at Macalester College in St. Paul Minnesota, a Master's degree at San Francisco State University and a J.D. at Golden Gate University, also in San Francisco. Sheila was a partner at two highly regarded law firm in Oakland, California before pivoting to attain a long-term dream of artisan cheese production and domestic animal care with her partner Lorraine at Nettle Meadow Farm since 2005. Since that time, Nettle Meadow has grown 20-fold and received more than 25 national and international awards for their hand-made bloomy rind, washed rind and fresh cheeses, as well as ecological awards and recognition. Perhaps more importantly, Nettle Meadow has managed to rescue and care for more than 200 non-productive farm animals over the last decade or more. Most recently, Nettle Meadow has begun an expansion into the old Hitching Post location in Lake Luzerne where they will be able to grow larger in the unique log structure that is the Hitching Post while offering a tasting room and expanded retail location and spread the joy of great cheese even wider around our region and beyond. Sheila also keeps her legal mind active by serving as the town justice in Thurman and her community agricultural and rural economic awareness current by serving as a director of the Farm Service Agency for Warren County.
Ginny Franzen
Board Member – B.A. in Speech Pathology and Audiology; teacher of the deaf for 35 years; manager and support teacher for children with cochlear implants. Ginny has been volunteering at the Folk School since 2012 and has been a member of the Board of Directors since 2015. She has enjoyed each of the 35 classes she has taken at the school, and hopes that through all she learns and passes on to her family she will instill love of the region and its culture and tradition in her grandchildren, Carter and Clementine.
Karen Goldberg
Board Member – Karen Goldberg grew up in the flatlands of Ohio, graduated with a BA in math from Ohio Wesleyan University and an MAT from Harvard University. Karen began her teaching career on Long Island where she met her husband, Bob; and her daughters, Alison and Kerri, were born there. They discovered Lake Luzerne while visiting relatives in the area and bought a two-room camp on the Hudson River in 1978. They spent every summer in the North Country and gradually expanded their tiny camp into a summer home. In 2010 when the Adirondack Folk School opened its doors, they had found our people! Bob and I have volunteered at the School in many capacities, taken many classes separately or with other family members, and have seen our tiny School expand like our tiny house. We are truly fortunate to have this gem in our very own town.
Steve Gurzler
Board Member – I was born in New Jersey and earned a Batchelor's Degree in Civil and Environmental Engineering from Newark College of Engineering at NJIT in 1979. I spent the next 42 years working in design and construction of water and wastewater treatment and conveyance systems, always striving for the most energy – efficient and sustainable solutions.
As a young fellow, I spent many years involved in the Scouting program, often spending summers in the Adirondacks, hiking, camping, canoeing, and ski touring, which gave me a deep appreciation for the Adirondack region.
Blacksmithing fascinated me from an early age, and in the early 80's I built my first forge and borrowed an anvil. I hacked along for many years, making simple items for camp cookery and basic medieval style armor for my friends and myself for recreational armored combat.
When we moved to the upstate region my skills improved when I began working with other blacksmiths in the Capital Districts Blacksmiths' Association. I also spent 15 years as the Blacksmith at Fort Klock in St. Johnsville, NY focusing on colonial era blacksmith work. I became involved with the Adirondack Folk School through the Open Forge Night Program about 8 or so years ago and soon jumped in to do demonstrations for the AFS at craft events, Teddy Roosevelt Days in North Creek, and Fort Wm. Henry. Lately I've been running the Open Forge Nights and helping coordinate the blacksmithing program.
I now reside in a small energy – efficient log house we built a few miles up the road from the AFS in lake Luzerne with my musician wife Beth and our greyhound Clay.
I look forward to continuing to teach classes at AFS and to serving on the Board to help further the goals of the AFS.
John Kingsley
Board Member – woodworking instructor with 40 years' experience; Senior Consultant for N.T.T. Data, with 30 years' experience in global I.T. services; Current Fiske Fund Chair of Northeast Woodworkers Association; past President of Adirondack Woodturners Association.
Kendall McKernon
Board Member – B.A. in Interior Design, Pratt Institute; Kendall has a 40+ year design career with commercial and residential projects primarily in upstate New York and New England. Currently also specializing in photography and promotion, Kendall is owner of The McKernon Gallery in Hudson Falls, NY.
Jim Schreiner
Board Member – Jim Schreiner of Great Sacandaga Designs and master-level woodworker, is a former National Team Kayak racer who has been building rustic and traditional furniture professionally since the early 1990's. Jim works and lives in one of three octagonal log cabins that he and his family built with his family in the 1970's and 1980's on the South Shore of the Sacandaga Lake in Day NY.
Barbara Shea
Board Member – Barb has been lucky to have had a grandfather who purchased land in Town of Day before there was the Great Sacandaga Lake and has been privileged to spend a lifetime of summers at the lake where she inherited a love for the land and its history. After taking her first class at the school, she immediately became an advocate and supporter for keeping the art and spirit of the Adirondacks and this incredible school alive for all to experience and learn about. Spending her entire career in banking, Barb knows how to identify and appreciate a valuable asset when she sees one, the Adirondack Folk School is a true treasure.
Dennis Wilson
Board Member – After a ten-year career teaching English abroad, Dennis moved to Chestertown, NY in 1985 to teach English at North Warren Central School. He retired in 2002. Always interested in wood carving, he saw beautiful examples of chip carving one summer at the Fletcher Farms School in Vermont and then took classes there. He has been chip carving ever since. He teaches chip carving at AFS and joined the board in 2020. Dennis loves teaching this ornate style of carving for its own sake, but also loves introducing it to students because it is little known and little practiced even among experienced woodworkers. Teaching at AFS is helping him to help others discover chip carving. Being a board member gives him the opportunity to help influence the school's development. AFS has plans for expansion to accommodate increasing interest in the folk arts, and it is exciting for him to be part of this effort.