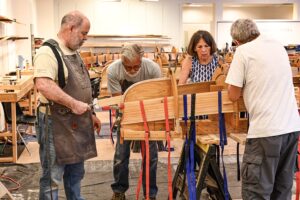 Build a Wee Lassie Canoe class (beginning).
If you've ever pictured yourself paddling on our Adirondack waters, accompanied by swaying branches, darting fish and birdsong, you may have already acted on that dream and purchased your own canoe or rented one on occasion. Kudos for making that happen! If that dream is still unrealized, and especially if it's lived alongside the one where you give up your 9-5 gig to start creating things – to feel the accomplishment of producing a finished work of art – then have I got an idea for you.
(Click here for the full story in the Adirondack Sports Magazine)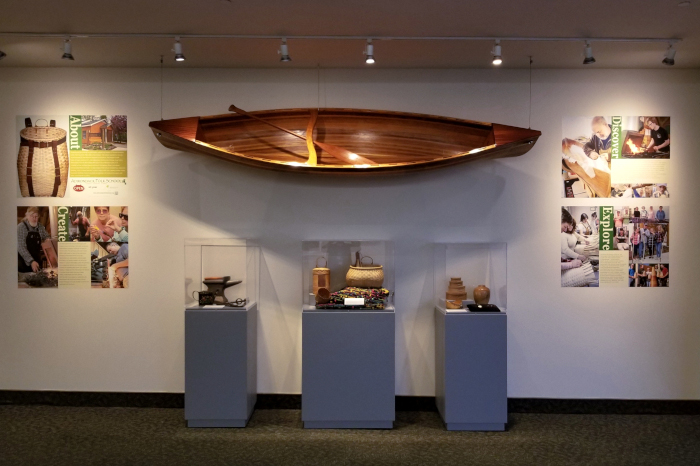 We are very excited to announce our participation in Albany Airport's Exhibition Case Program! The Exhibition Case Program is a facet of the Airport's Art & Culture Program, which showcases the artists and cultural institutions that reside in New York's Capital Region.
So, if you're traveling through Albany Airport this year, be sure to stop by Terminal A to see our display.
Thank you Tom Stock and Julie Hutchinson for your artistic and technical expertise to help us make the most of this wonderful opportunity!

Board member Jim Schreiner, who is also one of our inaugural instructors here at AFS was featured in a recent issue of Adirondack Life magazine. With Jim's friendly demeanor and quick wit, there's no question why his rustic furniture making classes are some of our most popular! To read the article check out the link below!
http://www.adirondacklifemag.com/blogs/2018/10/29/rustic-life-jim-schreiner/