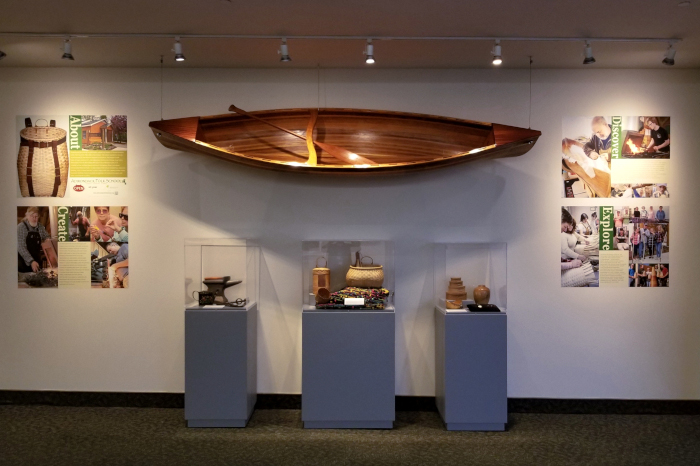 We are very excited to announce our participation in Albany Airport's Exhibition Case Program! The Exhibition Case Program is a facet of the Airport's Art & Culture Program, which showcases the artists and cultural institutions that reside in New York's Capital Region.
So, if you're traveling through Albany Airport this year, be sure to stop by Terminal A to see our display.
Thank you Tom Stock and Julie Hutchinson for your artistic and technical expertise to help us make the most of this wonderful opportunity!

Board member Jim Schreiner, who is also one of our inaugural instructors here at AFS was featured in a recent issue of Adirondack Life magazine. With Jim's friendly demeanor and quick wit, there's no question why his rustic furniture making classes are some of our most popular! To read the article check out the link below!
http://www.adirondacklifemag.com/blogs/2018/10/29/rustic-life-jim-schreiner/

The Adirondack Folk School has adopted the official inclement weather policy of following the Hadley-Luzerne Central School District's closure schedule here in Lake Luzerne, NY. If the HLCSD is on a two hour delay or closed, we will in turn follow. In the event of a closure, we will make every effort to post on our Facebook page and here on our website. If the weather is expected to interfere with a class, we will alert the effected instructors and students as soon as possible and arrange plans accordingly. If you have any questions or concerns, with this policy or anything else, please feel free to contact us here at the school; 518-696-2400 or email Scott at scott.hayden@adirondackfolkschool.org. Thank you.