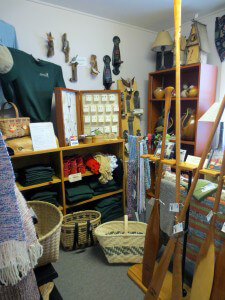 Choose from beautiful handmade scarves and rugs, handcrafted oars and paddles, and intricately detailed wooden bird carvings. At the AFS gift shop we also have homemade natural soaps and lotions, a number of woven baskets, and instructional books on many of the courses we offer at the school. Of course, you'll also find jewelry, felted wall hangings, and holiday ornaments. The list goes on and on…
Many of the items offered in our gift shop represent items that students will make in our classes such as the "Shades of Nature" lampshades, rustic birdhouses, and various pieces of gourd art. Come in and see what you could make here at AFS!
And for those that want to remember the school long after they've gone home, we offer AFS logo t-shirts, sweatshirts, denim button-ups, and fleece vests in a variety of sizes, as well as logo hats and enamel mugs.
As part of our mission to support unique Adirondack crafts, the gift shop is both a consignment shop for our instructors and a means of supporting the school. Come and find that something special even if you aren't taking a class!
Members of AFS receive a 10% discount on AFS logo items!
The gift shop is open from 9 a.m. – 4 p.m. Monday through Friday and any day that class is in session at the school. For more information, check our class calendar or call the school at (518) 696-2400.